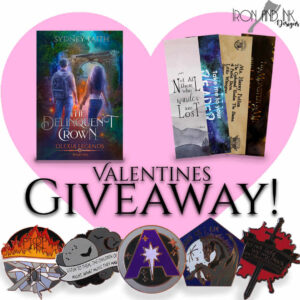 Hey everyone! I've teemed up with the amazing Angela from Iron and Ink to bring you this giveaway! They have generously sponsored this giveaway with six amazing pins and four premium bookmarks. The winner will also walk away with a paperback copy of The Delinquent Crown!
Enter here, any time before Feb 14th! >(http://sydneyfaith.com/giveaway/valentines-giveaway-with-iron-and-ink/)
Good luck to everyone who enters!
-👑 Sydney Faith